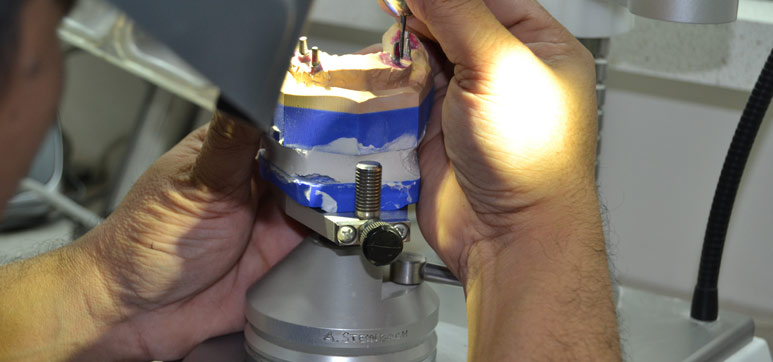 Our implant department is focused on creating superior implant abutments. We are dealing with all kinds of implant systems and guarantees the finest quality implants for the best results every time. Our technicians undergo substantial training in all the major implant systems, Nobel Biocare, Straumann, 3i, Zimmer, Astra, Megagen, Southern Implants, Ankylos, Biotech and many well-known systems. They use a highly effective blend of expertise, experience and the latest technology.
Cologne Dental Laboratory specializes in restoring dental implants for dental practices. We offer solutions for ceramic, porcelain, titanium and zirconia implants to dental clinics nationwide.
Our stent assures proper angulations and spacing for optimal restorative results. Whether you prefer a direct or solid abutment system, a stock milled abutment, or a custom cast-able abutment. Cologne Dental Laboratory solves your dental implant requirements. We reward your dental implant patients with the highest-quality ceramic dental implants every time. You receive added versatility, accuracy and Cologne's quick, simplified pricing
Our dental implant lab offers simplicity and predictability as well as providing a superior functional outcome. Doctors receive a way to provide patients with beautiful easthetic results in less patient visits while eliminating the difficulty behind traditional implant solutions. Gain peace of mind knowing our technicians are well versed in your dental implant needs as we work with over 12 manufacturers. Regardless of your current system, our technicians have the experience.